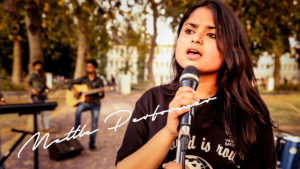 History
Founded on June 21, 2012, on the occasion of the World Music Day. Although this club or this genre of music had its presence in the music milieu of AMU since the early seventies, Dr. Parvaiz Imam gave the first public performance in 1987 with hawain guitar. The music culture was much promoted by African and Middle Eastern students residing in Aligarh under various educational exchange programs.
1991 saw the advent of 'Spooky Charms' by Ritwik Ghosh and some Commerce and Engineering College students.
1994 – the first rock show was promoted by (late) Iqbal Ghani Khan (Department of History) with his friend Billy Stevens performing a Beatles number, "When my guitar gently weeps." Then comes the first formal band of AMU known as Jinx. With Asif Fauzi, Ritwik Ghosh, Asad Javed, Faraz Izhaar and Saad Ahmad Khan. They won prizes at North Zone Youth Festival and also at National Youth Festival.
1999 – the second band came up the horizon was 'Red Dawn' with Khaliq Qureshi, Khalid Siddiqui, Talib Hussain Bilgrami, Taj War Ahmad Khan, Amber Jail Khani, and Rushdie. Later Dr. Ravi Farhan Khan also joined the band. Red Dawn won many prizes at zonal and national level. 'Pink Blues' started by Ashraf Shehzad included first female vocalists; Saba Siddiqui and Aashi.
2004- 'Irtiyash' was formed by Khurram Nisar, Nabeel Firoz, Irfan Ali Khan, Rohan Kumar and Umair Khan.
2006 – 'Sloth' entertained the campus under Ali Syed Taqvi, Atif Nafees, Umair Khan, Rohan Kumar, Nabeel Firoz. Later Faraz Farooq, Hamza Abid, and Shabbar Imam joined the group.
2012 – 'Mash –treaty' by Mehul Kumar, Atif Nafees, Umair Khan, Abhishek Noel and Atif Admi. The band Mash-Treaty was adjudged as MTV band of the year award in 2014 in the competition of 100 bands held at Kingdom of Dreams, Gurgaon.
Mentors
Dr. Aminul Islam (Assistant Professor, Department of Chemistry)- He is a very active member of his department, with key areas of work such as; Analytical Method Development and Validation; Solid-Phase Extractive Column Preconcentration; Tailor-made Selective Chelating Resin; Metal analysis. On the other hand, he keeps a keen interest in western music.
President
Mr. Faraz Farooq (Assistant Lecturer, Department of Architecture) – He is an assistant professor in the Department of Architecture, with thrust areas like; inclusive & equitable urban planning, transit-oriented development, and landscape urbanism. Besides this Dr. Faraz Farooq possesses immense zeal for music, he is an excellent guitarist. He loves to write and travel.
Secretary/Club Functionary (2017-2018)
Mr. Amaan Ali Shah
Activities
Key Achievements
Past Secretaries
Mr. Atif Nafis: 2012-2013
Mr. Mehul Kumar: 2013-2014
Mr. Syed Ali Mubasir: 2015-2016
Mr. Mir Akhtar Hussain: 2016-2017