History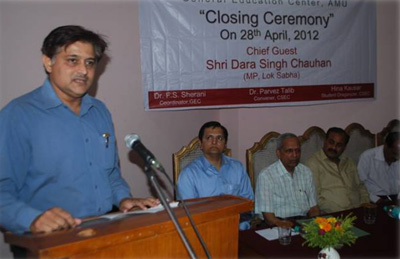 Club for Short Evening Courses was established in 1973, with Ahmad Surti as its first teacher in charge. Closed for quite some time, the club was revived in 1990, and Shabi Haider was appointed as the student convener of the club.
President
On June 20, 2012, Prof Parvez Talib was appointed as the President of CSEC, and he has rejuvenated the activities and format of the club to new heights. Prof Parvaiz Talib is a Professor at the Faculty of Business Administration. He has been using Learning Oriented Teaching Methods in various courses like Concepts of Management as part of which students carry out field projects on practicing managers in order to understand their working. He has been actively involved for the last several years in offering Personality Development and organizes programs for students to brighten their career prospects. He is force behind the beautiful New Management Complex Project. He possesses an interest in varied subjects like literature, history, humanities etc.
Secretary (2017-2018)
Mr. Furqan Ahmad
Joint Secretary (2017-2018)
Mr. Talha Tariq
Activities
Overall Personality Development: The club aims overall personality development of students. Specifically, the club was established with a vision to improve thinking/cognitive skills by organizing thought provoking discussions/invited talks with experts and teachers on contemporary issues.
Improve communication skills by holding workshops for student members of the club. These students shall be prepared to assume leadership role on this account so that they can be inspired to spearhead this movement in their respective halls of residences.
Short Term Courses: The club also take-up short-term courses, lecture series, workshops, training session on different topics and issues to benefit the student community at large.
Creative Discussion Forum: This unique forum is the best platform any fertile brain could desire for. In this forum the club invited a panel of senior most experts/scholars to talk on a topic with full freedom of expression followed by an interactive session, the thought provoking topics of the discussion are very unique.
Past Secretaries
Mr. Asif Iqbal : 1988-1989
Mr. Shabeeh Haider : 1990-1991
Mr. Faraz Aqil : 1999-2000
Mr. Moonis Mahfooz : 2000-2001
Mr. S.M. Anas Iqbal : 2001-2002
Miss. Pooja Singh : 2002-2003
Miss. Sana Sayed : 2003-2004
Mr. Fazle Alam : 2005-2006
Mr. Shahnawaz Malik : 2006-2007
Mr. Irfan Khan : 2007-2008
Mr. Mansool Ilhahi : 2008-2009
Mr. Mansoor Ilahi : 2009-2011
Miss. Hina Kausar : 2011-2012
Mr. Rezaul Karim : 2013-2014
Mr. Fawaz Shaheen : 2014-2015
Mr. Ameen Ahmad : 2015-2016
Mr. Faisal Nadeem : 2016- 2017